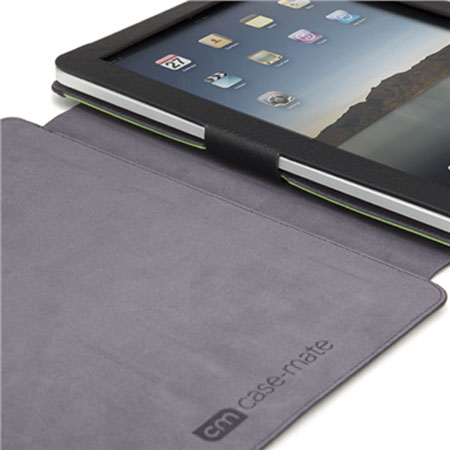 The Venture iPad Case and Stand is the newest addition to their iPad lineup. It's a slick professional looking iPad stand crafted out of black polyurethane material that is an outstanding example of form meeting function. There is a nice hint of color and styling with the green accent piping along the borders. The cover folds back and props the iPad up into multiple viewing angles for easy use. It's a useful, practical iPad case and stand combination that keeps your tablet safe and looking good in any setting. From the boardroom to your favorite cafe, this case/stand combo is the bees knees. Techwitty has been given the green light on funding several more development ventures this year.
The most colorful model, the iPad Gelli Checkmate Case, sports a colorful pattern on the back, which really makes it stand out from more traditional and discrete looking cases that disguise your iPad rather than showing it off. Appealing to the stylish and artsy iPad user, Case-mate has produced the Gelli in a variety of colors and patterns. It's made of a flexible thermoplastic that will protect the iPad from minor impact, scuffs and scratches. This is a bit softer and lighter than silicone or rubber cases and of course gives you complete access to the ports. The Gelli case is competitively priced similar to iPad touch skins from other companies at $39.99 but definitely has a lot more color, something refreshing to see in a world of cases that mostly look the same.
Next in line is the iPad Hybrid Tough Case. Giving you greater protection than the Gelli this dual layer case is made for those who plan to take their iPad on a hiking trip where dust and sand might make an attempt to assault those sensitive electronic innards. The entire unit is wrapped in a silicone skin to help it absorb any kind of impact. After that, you get a tough but light thermoplastic covering patterned with a small grid of dots to give you a better grip. The case is incredibly thin and manages to keep our iPad safe from outside forces while still giving you full access to use it. This combined approach should help those with an active lifestyle be sure their iPad is safely protected along the way. Still priced around the average for other cases at $49.99 this new approach to a tough case should fit the bill for many users.
In contrast to the Gelli, maybe you don't want to show off your iPad to the world. Maybe where you are or where you have to go, you don't want everyone knowing you're carrying a five hundred dollar piece of equipment in your briefcase. The cheapest of Case-Mate's offerings, The Express, is very discrete and minimal, but provide decent covering for your iPad and keeps it safe in transit. This is not a case designed to protect your iPad while you use it, or keep stand up to strong hits or falls, but it will keep it safe from scratches and scuffs if it's tossed into a briefcase or book bag. Additionally, it will protect it from liquid spills or rain with its splash-resistant nylon outer shell. This folio style iPad flip case has a magnetic clip to make sure it stays closed when not in use and $34.99 price will attract those who just want something basic.
The high-end model from Case-Mate is the Walkabout. This is kind of like the fancy version of basic iPad carrying sleeve, a leather jacket for your iPad. Made of strong premium grade leather, this is perfect for protecting your iPad from the elements. It's easy to underestimate the protection you get from leather, both from liquids and heat and cold, not to mention the style element. This is not a case which allows you to use your iPad while it's in the case, but it is a great way to keep it safe while traversing the Australian bush. This is definitely a unique and stylish way to carry your iPad, all you need is your digideroo to make it complete. The Traveler and the Gelli should both appeal to those who don't want a plain looking case for their equipment.
Case-Mate has a record of producing quality products for hand-helds, and the newest models look to be no exception. Though nothing revolutionary or overly unique, these cases will provide iPad users with a variety of functional and stylish cases to pick from when the iPad is released. You can learn more about Case Mate from their official Case Mate blog.
Continue Reading